The Hard Rock Cafe Venice is one of the most famous Hard Rock Cafes in Europe. It is not far from the central St. Mark's Square in a side street with a good view on a romantic canal with gondolas.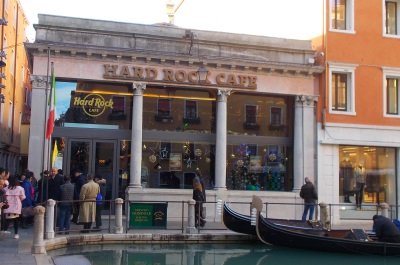 There's a bar downstairs at Hard Rock Cafe Venice and tables (restaurant) upstairs. Especially from the upper floor you have a great view. The famous restaurant often hosts events.
Our tip: Buy tickets for the Hard Rock Cafe Venice in advance on the Internet
Many tourists come to Venice, the Hard Rock Cafe is very well known. It is very rarely possible to get one of the few tables without making a reservation. Queues often form outside the door with extremely long waiting times.
The solution is to buy an entrance ticket with a set menu for the famous Hard Rock Cafe Venezia. If you have such a ticket you don't have to queue, byou get the next free table. The whole thing is called "preferred admission" or "skip-the-line ticket". There are menus in 3 different sizes including a soft drink.You can get tickets at Getyourguide.com
Behind the entrance there is also a small shop wselling the well-known articles of the Hard Rock Cafes. Of course there are also the famous T-shirts with the inscription "Hard Rock Cafe Venice" in different colours. There are also sweaters and caps with similar lettering.
The food at Hard Rock Cafe Venezia is international. For example, there are very good and large hamburgers, sandwiches and salads. Starters include fajitas and nachos, desserts include cheesecakes, brownies and ice cream.
The small but very well known restaurant is always very well visited. You rarely get a table without reservation, we recommend to book in advance.
>>> On this link you get online-tickets for the Hard Rock Cafe Venice
Street Map Venice with Hard Rock Cafe Venice
It is very central, not far from St. Mark's Square.
About one kilometer away from Hard Rock Cafe Venice, directly at the Rialto Bridge, there is another shop of Hard Rock Cafe with a slightly larger selection.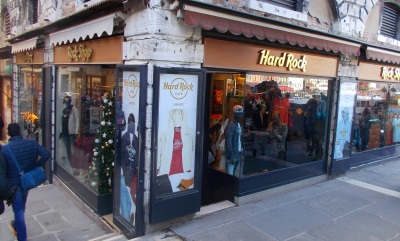 Shop near Rialto Bridge Venice
What is a Hard Rock Cafe?
It is a well-known chain that mainly operates restaurants worldwide. The T-shirts with the inscription "Hard Rock Cafe" plus the respective city have been famous in many countries for decades.
To our knowledge, there are three Hard Rock Cafes in Italy, besides Venice also in Rome and Florence. The branch in Venice might be the best known.
In Britain we know Hard Rock Cafes in London, Manchester, Glasgow and Edinburgh. The only one in Ireland is in Dublin. In Germany there are Hard Rock Cafes in Munich, Berlin, Hamburg and Cologne, in Austria in Vienna and Innsbruck. We know no branches in Switzerland. There are well over 100 restaurants in the chain worldwide. There are also some hotels and casinos from "Hard Rock Cafe".
Important: This article was translated by a non-native English speaking person. We apologize for mistakes.