Parking in Venice: You should reserve a parking space in the parking garage online in advance. Especially now at Corona time many people come to Venice by car. There is a great website for reserving parking spaces: Click Here



Insider tip:
Travel comfortably without queues, buy tickets online beforehand:



---

Venice is considered expensive. This is also true for the most part. But you can also visit Venice without spending a fortune. In the following article you will find important information on how to avoid high costs in Venice.
Prices for accommodation in Venice
A hotel room in Venice can be very expensive. Besides the quality of accommodation, the price depends on two things: the location and the season.
No hotel in Venice yet?
There are thousands hotels and other accommodations in and around Venice. In our opinion the best overview for 2020 is at Booking.com
. In this suburb accommodation is usually cheaper. From Mestre you can quickly go to the historic old town of Venice by train, bus or tram.
Those who stay outside the island of Venice usually do so in order to save money. Hotels in Mestre or accommodations in Marghera are much cheaper than on the main island of Venice. From the mainland districts you can travel by train (1.25 Euro one way) or by tram (1.50 one way) in a few minutes to Venice (see: Transpot in Venice). The rides are very frequent. The trains run irregularly but every few minutes, the tram at least every 10 minutes during the day (15 minutes on Sundays).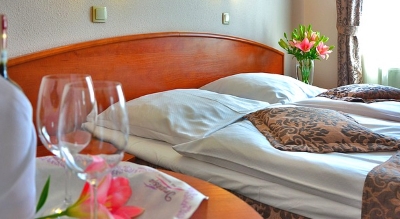 You should be careful when choosing a hotel in Mestre that it is not too far from the train station or a tram station (line 1). There are also bus lines to Venice (also only 1.50 euros one way).
Our savings tip Staying overnight in Marghera: Keep in mind that the Mestre train station has a rear exit for pedestrians. It is for Marghera. Booking.com will only show you the hotels in Mestre when you type in Mestre, but not in Marghera. So you should look in addition to Marghera. In Marghera you can often find cheap hotels as in Venice or Mestre. There are also some very fast bus lines from Marghera directly to the historic center of Venice (journey time less than 15 minutes, departures frequent).
Incidentally, our personal favorite (accommodation) is the new hotel and hostel of the German chain A&O. It is just a few minutes walk from Mestre train station. The decor is new and modern. There are single, double, family and dorm beds. The price of accommodation in A&O is, like all hotels in and around Venice, very different depending on the season. But A&O Venice is usually a bit cheaper than other, comparable accommodations. The reviews on the internet are good, the location is perfect. Since the A&O can be a real bargain and is very popular, you should book long ahead (best weeks before your trip to Venice).
You can also save a lot if you do not visit Venice during high season. Especially the hotel prices are very high at these times. The main season is summer Then the city is totally overfilled anyway. In summer it can be also very hot in Venice. Spring and fall are better the visit Venice. Winter is also a possibility. Then in Venice are few tourists, simple rooms cost in winter often under 40 euros. However, it can be quite cold on the northern Adriatic. Also the floods are a problem in winter. From time to time, large parts of the city are under water.
No hotel in Venice yet?
There are thousands hotels and other accommodations in and around Venice. In our opinion the best overview for 2020 is at Booking.com
. In this suburb accommodation is usually cheaper. From Mestre you can quickly go to the historic old town of Venice by train, bus or tram.
Going to Venice cheap
It is much cheaper to leave the car on the mainland and cross the bridge by train, tram or bus (just 1.25 to 1.50 per person one way from Mestre or Marghera with public transport, as of January 2021). Parking in Venice costs 20 to 30 euros per day (more here).
>>> On this link you can buy tickets for the water buses (vaporetto)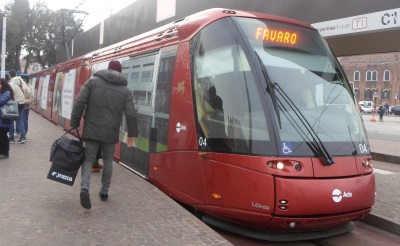 From the airport: The buses from the airport Marco Polo to Venice is a bit expensive. But buses from Venice Airport are much cheaper than the ferries (bus ticket one way 8 euros in 2021). Many airport buses also stop in Mestre on the mainland. From the second, smaller airport Treviso there are also buses to Mestre and Venice.
Our recommendation to and from Venice airport: sharing water taxis with other people

Water buses are much cheaper in Venice than water taxis. But they have disadvantages. They only go to certainstops in Venice. The way to the hotel on foot can be very far from the station. Above all, they are often very crowded. A narrow standing space (travel time often over 1 hour) on a ship after a long queue at the ferry-port of the airport is not a great start of a holiday. On the other hand, a water-taxi would cost you well over 100 Euros.

For some time there is a great alternative. You can only book seats in a water taxi, so you share the comfortable Venice water taxi with other passengers. This service is mainly between the airport and Venice. You book the ticket in advance on the Internet.
Eating and drinking inexpensive in Venice
Especially expensive is the area around St. Mark's Square. Here a coffee or beer can cost over 10 euros. This is especially the case if the music costs extra A live band or similar entertains the guests in the cafe, who have to pay a "music surcharge" of about 6 euros. Especially on and around St. Mark's Square there are such "tricks".
In areas away from tourist crowds, Venice is barely more expensive than anywhere else in Italy or England. An espresso rarely costs more than 1.50, sometimes even only 1 euro.
In Venice, high-priced areas include St. Mark's Square (San Marco), Rialto Bridge area and the train station. Everywhere where tourists often come by. Our tip is quiet simple. Go to areas where almost no tourists are. There are many.
Directly in the main tourist streets in Venice for a normal pizza you pay often 15 euros, 2 side streets away a similar pizza costs 8 euros. Mostly, the cheap pizza in the side streets tastes even better. In many typical Italian fast food shops there are offers such as spaghetti in various forms such as bolognese, etc. with coke for 9 euros (also for example lasagna). In great bakeries there are delicious sweet pastries for 1 to 1,50 Euro.
Example: A bar with reasonable prices in a shop window, just 150 meters from the train station Santa Lucia, away from the main tourist streets (summer year 2017).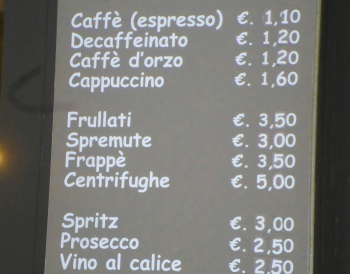 Water in bottles is much cheaper in Italy than Coke or other soft drinks. Often the price for 0.5 liters of mineral water in small shops or kiosks is one euro or less, even larger bottles are not much more expensive. Again, do not buy anything in the main tourist areas.

In many restaurants and cafes in Venice, the food and drinks to go are cheaper than sitting at the table. Even standing at the bar or sitting on a simple bar stool is often much cheaper than at a table. You can just take lunch with you and eat on a bench next to a nice canal and watch the boats. This will save you a few euros per person.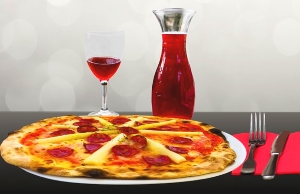 Fast food in Venice: An alternative at the train station is food at Burger King: I ate a menu (burgers, fries, cola) at Burger King near Santa Lucia Central Station in early 2017 for € 3.99. Although it was small fries and a medium coke, but for this price, the offer of Burger King Venice is great. You leave the train station at the main entrance, 50 meters on the left, over a large bridge over the Canal Grande and you are almost in front of the entrance of Burger King.
There is also a Mc Donalds in the center of Venice (the typical menus about 8 to 9 euros). This Mc Donalds is very popular and often there are queues.
Of course you can buy drinks and food in a supermarket on the mainland and bring it to Venice in a small backpack. We often did not buy anything on a day trip from Mestre to the old town - except the tram tickets for 3 euros per person return.
Our tip: Buy Bus Tickets from the Airport to Venice in advance online
The public bus is the only really cheap way in Venice to get from the two airports to the centre of Venice and to Mestre. The modern buses often run in both directions.
For airport buses, we recommend the uncomplicated purchase of tickets in advance on the Internet. This avoids long searches for the right ticket counter, queues and language problems. On the 3 links below you will find both simple tickets and cheaper return tickets.
Tickets from the big airport Marco Polo to the center of Venice: Click here
Tickets from the big airport Marco Polo to the station Mestre: Click here
Those who arrive at the smaller airport Treviso can also buy the bus tickets in advance. These buses stop both in Mestre and downtown Venice: Click here

Save money and discover Venice on foot

You can save a lot of money if you discover Venice on foot. The prices for the ferries in Venice (Vaporetti, in English also water buses) are not particularly favorable. A one-way ticket costs 7.50 per person, a day ticket costs 20 euros. If you are good on foot, you do not need the ships. Venice is not particularly big, from the train station to the main sights like San Marco or the Rialto Bridge you walkd only 30 to 45 minutes.
However, you can of course only visit the main island on foot. If you want to see some other interesting island like Murano, Burano or Lido, you have to buy a day pass for the public ferries (see red box above). If you stay longer, just buy a week pass. It is 60 euros, 3 times a day pass.
---
Reserve a parking space: Parking spaces are rare in Venice, multi-storey car parks are often full. It is therefore advisable to reserve your parking space. On this website you can book parking spaces in Venice (including the big car parks in the Old Town of Venice, in Meste and at the airport).
City Plan Venice
The Old Town of Venice is an island.
---
Our tip: Buy tickets for waterbuses beforehand
It is not always easy to buy tickets abroad. You don't know where to buy tickets, foreign ticket machines are difficult to use, there are language problems, queues, etc.
The 1, 2 or 3 day valid tickets for the waterbuses (ferries) in Venice are needed by almost every tourist. These tickets can now be bought on this english website.
The tickets for the bus from Venice airport to the city are available on this page in English language.

Our map of Venice
>>> Berlin Prices

Important: This article was translated by a non-native English speaking person. We apologize for mistakes.
Deutsche Version
---