On no island of Venice, except on the island of Venice itself, do more people live. Lido has almost 20,000 inhabitants. The island Lido di Venezia can only be reached by boat, the vaporetto (public ferry) is the only means of public transport. The vast majority of the vaporetti (plural of vaporetto, also known as water buses) arrive on the island of Lido at the pier S.M.E. (Santa Maria Elisabetta). There are roads on Lido. All buses stop at the pier S.M.E. and take people to different places on the island.
>>> On this link you can buy tickets for the water buses (vaporetto)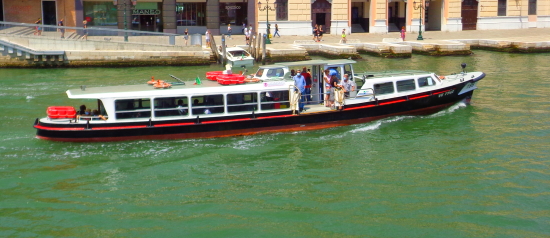 Lido is long and narrow, a shape similar to Chile. The arrival point of most tourists is the large vaporetto terminal S.M.E., only a few hundred meters or minutes drive from Venice. Every few minutes a vaporetto arrives at Lido from Venice, some also come from Punta Sabbioni on the mainland towards Jesolo. The port of S.M.E. is in the northern half of the 11 km long island of Lido, but not quite in the north. The famous beaches of Lido are on the other side of the island. Since Lido is narrow, it is less than 1 km from the jetty to the beach. Many beaches are further away and easily accessible by bus. Practically all beaches in Venice are on Lido and the neighboring island of Pellestrina. These are also the only important islands in Venice with roads and cars.
Tickets Vaporetto Lido
All tickets are valid on all ACTV lines. Only to the airport with the ferry you need an extra ticket.
One-way tickets are not expensive, there are season tickets for 1 day, 2 days, 3 days and 1 week. With these tickets you can take as many waterbuses as you want in the purchased period.
>>> On this link you can buy all tickets for the water buses
Vaporetto Lines to Lido
Several important water bus and public ferry lines sell to Lido. In the following an overview of the Lido vaporetto lines of the company ACTV:
Vaporetto Line 1: Line 1 vaporetti operate from Venice to Lido, but the journey takes quite a long time as the ships often stop. The waterbus line 1 starts from the bus station in Piazzale Roma. The next stop is Venice's central station Santa Lucia. Then line 1 goes up the entire Grand Canal (through the Rialto Bridge, etc.) and at the end of the Grand Canal of Venice continues to St. Mark's Square and finally to Lido. You can see a lot during a trip with the vaporetto 1, but the whole trip takes about 1 hour with about 20 stops. Like all the lines, it is the same way back. Frequency frequent, during the day every 12 minutes in both directions.
Vaporetto lines 5.1. and 5.2.: These two lines go around Venice and make a detour to Lido. Line 5.1. runs counterclockwise around Venice, line 5.2. clockwise. From the Central Station, line 5.1. takes about 30 minutes to Lido, and the trip around the other side of line 5.1. is further (about 45 minutes). If you want to go quickly from the main station and bus station to Lido, take line 5.1. and back on line 5.2. If you want to go around the whole island, you have to take the other line once and plan 15 minutes longer. Departure every 20 minutes both lines 5.1. and 5.2.
Line 11: An interesting line that consists partly of bus and partly of boat. First you take the bus to Pellestrina (between the islands a little bit by ferry). Then you continue from Pellestrina to the city of Chioggia, on the mainland, south of the lagoon, by ferry. Frequency every 30 minutes.
>>> On this link you can buy all tickets for the water buses
Our tip: Reserve a parking space
Parking is very difficult on the island of Venice. There are only the 4 parking garages at the entrance to the old town. These are often full. If you come by car, you should reserve in one of the parking garages in advance.
>>> On this website you can reserve parking spaces. (Old town island, Mestre on the mainland and airport)


---
Corona Update Parking Venice
Currently all 4 parking garages in Venice are not very full and have similar prices. We therefore recommend two parking garages right next to the Old Town at Piazalle Roma. These are Autorimessa Comunale AVM (often good offers) and Garage San Marco. Be sure to book online in advance!
Line 14: From St. Mark's Square, take the large water buses to Lido and then on to Punta Sabbioni on the mainland towards Jesolo (north). From Punta Sabbioni you can take the bus to Lido di Jesolo. It is the same way back (Punta Sabbioni - Lido - Piazza San Marco). Departure every 30 minutes. >>> Our article about Vaporetto Line 14
There are some more vaporetto lines. These do not run all day, but only during rush hour or night lines.
If you want to go from Lido to islands like Murano and Burano or the other way around, you have to change at Fondamente Nuove on Venice. From Lido to Fondamente Nuove you take a 5.1. vaporetto, or 5.2. from Fondamente Nuove to Lido.
If you want to go to Lido by car, take the car ferry line 17 from Tronchetto to Lido S. Nicolo. Tronchetto is in the port of Venice and you can reach it by car. Take the big bridge (Liberty Bridge) to Venice and take the first right into the port.
Travel times vaporetto from and to Lido
From Venice Central Station and Bus Station to Lido: The fastest way to get to Lido is with the 5.1. train (about 30 minutes)
From St. Mark's Square to Lido: Many lines, fastest with line 14, about 15 minutes. But even the vaporetti 5.1. don't take too much longer.
From Rialto to Lido: about 45 minutes with line 1.
From Punta Sabbioni to Lido: waterbus 14, about 15 minutes.
See also: Venice Islands List


Our tip: Buy tickets for waterbuses beforehand
It is not always easy to buy tickets abroad. You don't know where to buy tickets, foreign ticket machines are difficult to use, there are language problems, queues, etc.
The 1, 2 or 3 day valid tickets for the waterbuses (ferries) in Venice are needed by almost every tourist. These tickets can now be bought on this english website.
The tickets for the bus from Venice airport to the city are available on this page in English language.