Venice is considered expensive. Stories about a big beer at St. Mark's Square for 15 Euros or a simple dinner for 50 Euros per person are often told by tourists. Restaurants with such prices really exist in Venice. They are real tourist traps. But you don't have to go there. Basically, the gastronomy in Venice away from the 3 or 4 extreme tourist areas is at most 20 to 30 % more expensive than elsewhere in Italy. A good pizza with a drink for around 10 euros is also possible in Venice.
Our tip: Buy tickets for waterbuses beforehand
It is not always easy to buy tickets abroad. You don't know where to buy tickets, foreign ticket machines are difficult to use, there are language problems, queues, etc.
The 1, 2 or 3 day valid tickets for the waterbuses (ferries) in Venice are needed by almost every tourist. These tickets can now be bought on this english website.
The tickets for the bus from Venice airport to the city are available on this page in English language.

You should be very careful when it comes to rip-offs around St. Mark's Square, around the Rialto Bridge and around the Santa Lucia train station. If you go into one of the thousands of side streets not visited by tourists, you will quickly find a nice restaurant.
Our tip: Great Street-Food-Tour through Venice
The main reason why tourists eat fast food in Venice is the high prices and the rip-off in many restaurants. You quickly pay 25 Euros and more per person for a mediocre to bad lunch. In the following, we describe how one can learn a lot about the cuisine of Venice for little money and how one can try some interesting local dishes:
There is a 2.5 hour tour of the old town of Venice on the theme of culinary delights and local food. You walk in a small group with a great guide through typical restaurants and bar only a few meters away from the big tourist streams. Our guide Veronica showed us a lot in 2,5 hours. Since the group is rather small, the insider tip tour on the subject of Venetian food has a personal touch. Every question is gladly answered. It was a really great tour. The "Street-Food-Tour", as the tour is officially called, costs only 29 Euro including some snacks in some restaurants. You can try the typical Venice cicchetti (comparable to the more famous tapas from Spain). In our opinion this city tour through Venice is a real insider tip.
Many visitors to Venice are looking for a quick snack or fast food. They don't come to Venice to see well, but to see the sights. In the following some tips where you can eat fast and inexpensive. Most of them are close to the main alleys between the train station and the Rialto bridge. In our experience, there are a lot of hungry visitors to Venice here.
Frito Inn: Interesting stall with fried delicacies such as seafood and chicken. The street snack bar is about 400 metres from Santa Lucia railway station towards the Rialto bridge. Address: Campo San Leonardo , district Cannaregio 1587, Venezia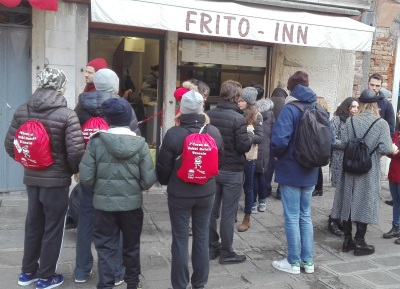 The Frito Inn is very busy even in winter (see picture). The chicken nuggets, fried fish, fried vegetables and above all various seafood are popular in the fast food restaurant. We liked the calamari very much. A real Italian snack.
Mc Donalds is also on the way from Ferrovia to Ponte Rialto (railway station to the Rialto bridge). Address about: Strada Nuova, 3885, Venezia.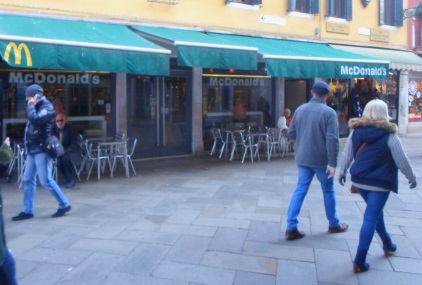 For Venice the Mc Donaldīs is of course inexpensive and therefore very popular. There is a lot going on here during the summer rush hours. As far as we know, it is the only Mc Donaldīs on the island of Venice, on the mainland there are some more like in the railway station Mestre and in the shopping centre Porte di Mestre.
The Burger King is only 100 meters from the train station. You simply cross the Canale-Grande-Bridge (Ponte della Scalzi) and stand in front of the entrance. During our visit in winter 2016 / 2017 some smaller menus only cost 3,99 Euro.
Good and not expensive in this area around the train station are also some restaurants in the Jewish quarter around the square Campo del Ghetto Novo. This is where the word "ghetto", used in many languages today, was created. The Jews of Venice had to live here in past centuries. Geto means foundry in Italian. There were many iron foundries in the Jewish quarter. In some restaurants you can eat kosher nowadays very well and not too expensive.
Important: This article was translated by a non-native English speaking person. We apologize for mistakes.