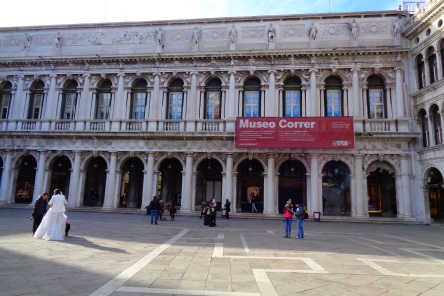 Opening hours Museum Correr Venice: Daily from 10 to 19 o'clock, in winter (about November to March) only until 17 o'clock.
Opening hours Museo del Vetro: Summer (April to October) 10 a.m. to 6 p.m., Winter 10 a.m. to 5 p.m., as far as we know no rest day.

Admission: 10 Euro, reduced like pupils, students up to 25 years, pensioners 7,50 Euro. Children under 6 do not need a ticket.
Our Tip: Cheaper in the churches of Venice with the Chorus Pass
Many churches in Venice cost admission. However, there is a ticket for 15 churches for only around 10 euros. With this ticket you can visit many of the important churches of Venice within 30 days. If you visit more than two churches, you can already savedmoney. You can buy the Chorus Pass on the Internet on this website.
---
List and Overview of smaller museums in Venice
Not all of these museums are small. Some have a large exhibition area or would be outstanding sights in a city with less museum competition.
---
Venice Naval Museum (Museo storico navale): exhibition of the naval forces of the former Venice and the Italian Navy. The larger museum (5 floors, about 45 rooms) is located far to the east of the main island of Venice and is best reached by water bus (minimum 1 hour walk from the train station). Interesting are for example ship models, old nautical charts, uniforms, weapons of the navy and much more.
Opening hours Naval Museum Venice: Daily from 8:45 to 17. From January to May the museum is closed from Monday to Thursday at 13:30 and on weekends at 10 am.
Entrance fees Museo storico navale: Admission costs 5 euros in 2017 and probably also in 2018, with a reduction of 3.50 euros.
Current information October 2017: The Museum is currently closed due to renovation. How long is unclear to us, probably at the beginning of 2022 or longer.
---
Natural History Museum Venice (Museo di Storia Naturale): Museum in a beautiful location in a palace worth seeing in the city centre directly at the Canale Grande. The exhibition includes an aquarium and a lot of information, e.g. on the evolution of life on earth and wonders of life.
Opening hours Venice Natural History Museum: usually from 10 a.m. to 6 p.m., in winter from 9 a.m. to 5 p.m. on some days.
Venice Museum of Natural History: Adults 8 euros, concessions 5.50 euros.
---
Museum Ca' d'Oro: In a great palace at the Canale Grande there is a gallery and museum worth seeing. The Ca' d'Oro deals with art from the city of Venice, especially from the Gothic, Renaissance and Baroque periods. In addition to paintings, you can see artistic objects such as carpets and furniture.
Opening hours Museo and Galerie Ca' d'Oro: Every day from 8:15 to 19:15, Mondays only until 14 o'clock.
Entrance fees Museo Ca' d'Oro: The entrance fee for adults is 8.50. In the family-friendly museum children up to 17 years pay no entrance fee, people up to 26 years 4.25 Euro.
---
National Archaeological Museum Venice: Museum of very old finds, e.g. from the time of the Romans and the Hellenistic period (Greeks). The Archaeology Museum is located directly at St. Mark's Square and can be visited as part of a combined ticket with the Doge's Palace and the Correr Museum. Therefore the "Museo archeologico nazionale di Venezia" is very well visited.
The opening hours are similar to those of the Museum Correr (10 a.m. to 7 p.m. in summer and 10 a.m. to 5 p.m. in winter).
Admission prices as part of the combined ticket see above at Museum Correr.
---
Museum Leonardo da Vinci: Smaller museum near the Scuala Grande di San Rocco, which deals with the life's work of Da Vinci. You can see replicas of his ingenious inventions, paintings, etc.
Opening hours: Daily from 9:3
Entrance fee: Unfortunately we did not find any current official information. According to some reports on the internet the Museo Leonardo da Vinci costs 8 Euro for adults (see more information on this page)
The Lace Museum Burano is also a popular place to visit (see more information on this page).

Better buy tickets for Venice online

In Venice, the queues are often long, some sellers do not speak English. Ticket machines are difficult to use for foreigners. Therefore, we recommend to buy some tickets in advance on the Internet e.g. on the well-known website Getyourguide:
1. Tickets for the local ferries (water buses, vaporetto): daily tickets, weekly tickets, etc.: Click here
2. Tickets for the airport bus: Venice Marco Polo Airport: Click here
3. Doge's Palace and St. Mark's church (the main sights): Click here
4. Great und cheap trip to 3 islands around Venice: Click here

Our city map (sights and much more)
Important: This article was translated by a non-native English speaking person. We apologize for mistakes.