Rosolina Mare is one of the major tourist resorts on the Italian Adriatic. The resort is about 50 kilometers south of Venice. It is a typical beach resort on a peninsula in the Adriatic Sea. Almost everyone who comes to Rosolina Mare is here for a beach vacation.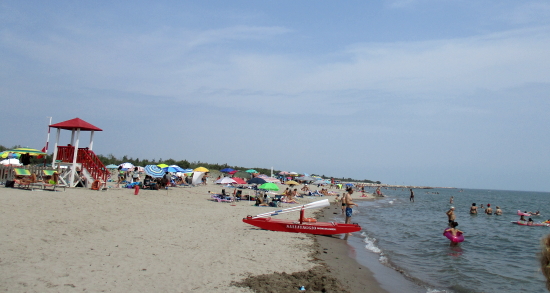 Directly north of Rosolina Mare, the Adige River flows into the Adriatic Sea. In Italian, the water body is called Adige. The river comes from South Tyrol. The Adige is the second longest river in Italy and flows through Bolzano and Verona.
The beaches are good. Rosolina Mare has wide, clean sandy beaches on both sides of the peninsula. All the infrastructure of a seaside resort is present. This includes things like miniature golf and even a Ferris wheel. Of course, Rosolina also offers sports like water sports, beach volleyball and (beach) tennis.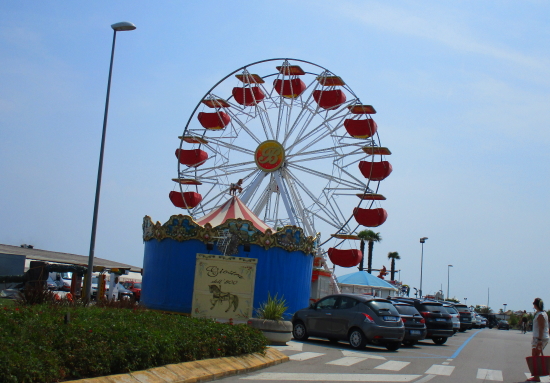 It is a gigantic resort with many hundreds of hotels and restaurants. In summer it is extremely busy. Almost all tourists have a car, a large part of Rosolina Mare consists of parking lots.
The beaches are in sections in private hands. You can get in for free, but you have to pay for places on the beach (umbrella and sunbed). Parking also costs in many parking lots. On the beach there are also many bars, cafes and restaurant. The beach goes along the whole 8 km long peninsula. The sand is very fine. Also the water looks clean despite the many people.
Worth mentioning is the observation tower "Torre Panoramica Foce dell'Adige" in the middle of Rosolina Mare. From the top you can see large parts of the town, the hustle and bustle on the beach and the mouth of the Adige River into the Mediterranean Sea.
Rosolina Mare is a typical Italian vacation resort. The majority of the vacationers are Italians. But you can also see German, Dutch and other license plates. There are also camping sites.
About 10 km further south the river Po flows into the Adriatic Sea. The Po Delta is a great natural landscape for hiking and biking. Our page about the Po Delta