Vignole is an island in the lagoon of Venice. Among the inhabited islands of Venice, Vignole is one of the least visited by tourists. The approximately 70 inhabitants of the 70 hectare island live mainly from agriculture. Offered are particularly high-quality vegetables and fruit for the city of Venice.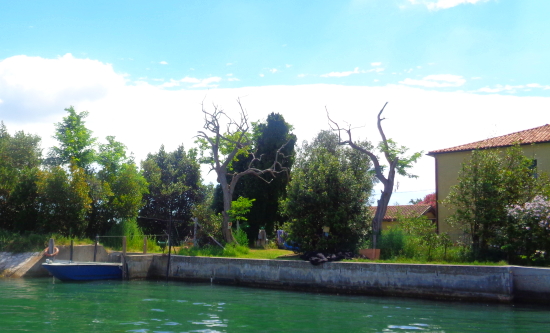 There is not much to see on Vignole. Most visitors come to escape for a few hours from Venice, a city almost without green spaces. You can take a walk on Vignole or visit one of the two restaurants in summer (open only seasonally). There are some streets and paths. However, parts of the island are closed because the Italian military has a base on Vignole. You can often buy Vignole's vegetables at the Rialto market in Venice.

You can reach the island of Vignole with the water bus (vaporetto, ferry) of line 13, which runs during the day every day of the week about once an hour in both directions.
The vaporetto line 13 has the following stops:
Venice Fondamenta Nove (also written Fondamenta Nuove) - Murano Faro Island (lighthouse) - Vignole Island - Sant Erasmo with 3 stops - Treporti (mainland).
The water buses of line 13 are the only ferries that go to Vignole and the bigger neighbor Sant Erasmo.
Our tip: Buy tickets for waterbuses beforehand
It is not always easy to buy tickets abroad. You don't know where to buy tickets, foreign ticket machines are difficult to use, there are language problems, queues, etc.
The 1, 2 or 3 day valid tickets for the waterbuses (ferries) in Venice are needed by almost every tourist. These tickets can now be bought on this english website.
The tickets for the bus from Venice airport to the city are available on this page in English language.

Many island guests visit the church Santa Eurosia. Around the island there are many yachts and smaller ships. Many Italian visitors to the island probably come with their own boat. There is also a big storage place for wood on Vignole.
Conclusion: Certainly not the most exciting island in the lagoon of Venice. But if you want to see something completely different, you can take the waterbus for 2-3 hours to Vignole. You see a lot of green landscape, exactly what Venice does not have.