Driving on the main island of Venice with vehicles such as cars is impossible and of course prohibited due to the narrow alleys and many stairs. Even bicycles can hardly be seen on the main island of Venice. Only two means of transport in Venice remain: the ship or on foot. The public ships (water buses or vaporetti) are expensive and do not go everywhere. You can walkd in Venice, but the island with the old town is large. From the main station to St. Mark's Church, for example, it's a 45-minute walk.
Venice is flat, but there are many bridges with many stairs. This is not always easy for old or handicapped people. Except for the bridges up and down, every path on the main island is flat, there are no hills or mountains.
On the other hand, so much money has already been spent on the trip to Venice that you don't want to waste hours on long walks. If you use the water buses, you should not buy expensive single tickets (minimum 7,50 Euro one way in 2017), better choose a 48-hour, 72-hour ticket or a ticket for a week.
>>> On this link you can buy tickets for the water buses (vaporetto)
Orientation and city map
One big problem as a pedestrian in Venice is orientation. We don't think there's anyone who doesn't get lost the first time in Venice. The problem is the narrow alleys, which were not always built at right angles. Venice is like a maze for tourists, after 10 minutes you will surely get lost.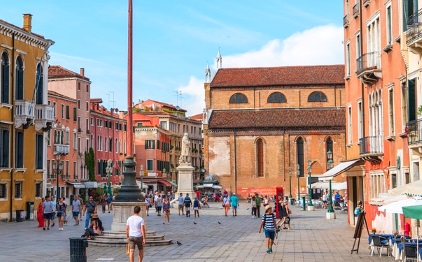 Orientation in Venice with Smartphone and GPS
A city map will help, of course. The streets of Venice are signposted with street names. Even better is the smartphone. If you are familiar with modern mobile phones, you should download an offline map on Google-Maps of Venice before your trip. If you switch on the GPS, you have a realistic chance to find the desired destination with the help of map on your mobile phone. But even then it is still not quite easy. We still got lost often. Sometimes you stand in front of a canal and there is no bridge. In addition, the GPS has difficulty determining the exact position in the narrow alleys with the high walls. The GPS system needs direct contact to several satellites, the houses are in the way. We often need 20 minutes for a distance of 300 meters. It's hard to imagine how difficult it must have been without a smartphone.
Our tip: Buy tickets for waterbuses beforehand
It is not always easy to buy tickets abroad. You don't know where to buy tickets, foreign ticket machines are difficult to use, there are language problems, queues, etc.
The 1, 2 or 3 day valid tickets for the waterbuses (ferries) in Venice are needed by almost every tourist. These tickets can now be bought on this english website.
The tickets for the bus from Venice airport to the city are available on this page in English language.

City Plan Venice
The Old Town of Venice is an island.
Distances in Venice
Most important starting points and destinations such as the main railway station Santa Lucia, the Rialto Bridge or the famous St. Mark's Cathedral (more informamtion) are at most a good kilometre apart. But you rarely find the fastest way in the maze of alleys. The 4-5 very important sights of Venice can be reached in about 3 hours walking time. Of course, you have to add brakes Only destinations in the back of the island with the old town are really far on foot. "La Biennale di Venezia", for example, is almost an hour's walk away. In this distant area, however, are not very important sights of the lagoon city.
Directions in Venice
The public signs are helpful for many pedestrians in Venice. Unfortunately there are far too few of these signs (see picture). They only exist for the about 5 to 8 most important points in the city. They are monolingual in Italian.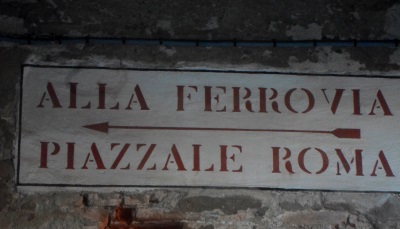 You should know that "Ferrovia" means railway. It is therefore a signpost for pedestrians to the station (Venice Santa Lucia). The signs to St Mark's Square (S. Marco) or to the central Rialto bridge (Rialto) are easier to understand. If you want to return to the bus station, tram or car park, you should follow the signs to Piazzale Roma. In this case it is almost as good to go to the station (Ferrovia). Piazzale Roma and the railway station are only 150 metres apart and connected by a new pedestrian bridge.
Crossing the Canal Grande as a pedestrian
If you walk through Venice you should know that there are only four bridges over the almost four kilometres long Canal Grande. Two are almost next to each other near the main station. Besides there is only the Rialto Bridge and the Accademia Bridge. If you are planning a walk through Venice, you should definitely take this into account. The Canal Grande winds its way through Venice in a s-shape. Because of the few bridges you often have to take a long detour by foot. In some places, however, there are small ferries (see: Venice gondolas) across the wide canal. But they are hard to find and cost 2 euros.
Even smaller canals do not have bridges everywhere. There are 400 bridges for pedestrians on the island of Venice. Venice on foot is very interesting. In every small alley you can discover something special. As a pedestrian you should also visit some paths away from the big tourist routes. Here you can still find a small, traditional cafe, wherean espresso costs only one euro.
Important: This article was translated by a non-native English speaking person. We apologize for mistakes.