Punta Sabbioni is an important ferry port near Venice for the water buses. The port is on the mainland on a peninsula. It is mainly used by tourists who spend their holidays in or around the seaside resorts Lido di Jesolo and Cavallino and go on a day trip to Venice.
>>> On this link you can buy tickets for the water buses (vaporetto)
So-called water buses or vaporetti (passenger ferries) take thousands of tourists from Punta Sabbioni directly to the centre of the old town of Venice near St. Mark's Square in about 30 minutes every day in the year. There are also water buses from Punta Sabbioni to some of the most popular islands in the Venice lagoon, such as Burano and Murano.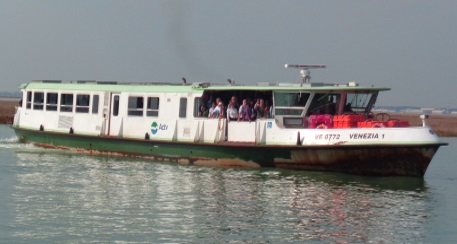 Many people spend their holidays on one of the beaches around Jesolo. Venice, one of the largest sights in the world, is not far away, so many tourists make an excursion there. You can go by bus or car to Punta Sabbioni and then by boat to Venice.
Punta Sabbioni on the map
The port of Punta Sabbioni is in the south of the very touristic peninsula.
Ferries from Punta Sabbioni
There are two important water bus routes from Punta Sabbioni:
Line 14: To Lido and San Marco (Venice centre). At least every 30 minutes during the day.
Line 12: To the islands of Burano, Torcello and Murano, then on to Venice-North (Fondamente Nove pier in the old town). At least once an hour during the day.
If you want to go from Punta Sabbioni to Venice you better take line 14 because of the much shorter journey time to Venice (about half an hour). In addition, this vaporetto arrives centrally near St. Mark's Square.
Tickets from Punta Sabbioni
All normal tickets for the water buses (ferries) from Venice are valid all the way to Punta Sabbioni.
>>> On this link you can buy tickets for the water buses (vaporetto)
There are single tickets , but almost all tourists buy a day ticket or a multi-day ticket, as these are cheaper. You can use practically all water buses in Venice (except to the airport).
Our tip: Buy tickets for waterbuses beforehand
It is not always easy to buy tickets abroad. You don't know where to buy tickets, foreign ticket machines are difficult to use, there are language problems, queues, etc.
The 1, 2 or 3 day valid tickets for the waterbuses (ferries) in Venice are needed by almost every tourist. These tickets can now be bought on this english website.
The tickets for the bus from Venice airport to the city are available on this page in English language.

Note: The bus between Punta Sabbioni and Lido di Jesolo has to be paid extra. However, the bus is quite inexpensive (normal local ticket for about 2 to 3 euros). Tickets are available at a ticket counter in Punta Sabbioni or in almost every tobacco shop in Cavallino and Lido di Jesolo and at the big bus station in Lido di Jesolo.. Some hotels also sell bus tickets.

Short film about Punta Sabbioni (Youtube)
By car to Punta Sabbioni
With your own car or rental car you can easily reach Punta Sabbioni from Jesolo and the surrounding area. The distance from Lido di Jesolo is a little over 20 km. Several hundred meters before the port for the ferries to Venice you will see the beginning of the large parking lots. The car park operators advertise for customers on large billboards. A day parking in Punta Sabbioni costs about 5 to 7 euros in 2022.
By bus to Punta Sabbioni
There is a bus from Lido di Jesolo bus station to Punta Sabbioni about every 30 minutes. These buses stop quite often, also many times in and around Cavallino. A lot of tourists get on at a bus stop near their hotel. Virtually all passengers continue by water bus from Punta Sabbioni to Venice or one of the islands.
>>> On this link you can buy tickets for the water buses (vaporetto)
What to see in Punta Sabbioni?
Not a lot. Punta Sabbioni consists only of a large ferry terminal, several ticket counters, several snack bars, a public toilet, a small bus station and very huge parking lots. There are some big campsites in the area.
Punta Sabbioni is not a sight, but a park-and-ride port for ferries to Venice with a lot of parking spaces, a bus station and some shops.

>>> On this link you can buy tickets for the water buses (vaporetto)
Important: This article was translated by a non-native English speaking person. We apologize for mistakes.