The bookstore Libreria Acqua Alta (translated bookstore high water) is a great sight in Venice. It is one of the most unusual shops I have ever seen and absolutely worth a visit.
It is a shop in the middle of Venice, where mainly books, but also pictures, drawings, postcards and much more are offered. At first glance, everything seems completely confused and chaotic. Most books are not on shelves, but simply lying around - in gondolas from Venice and in old bathtubs, among other things.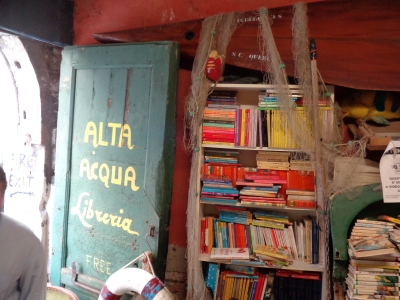 In the courtyard there is a staircase consisting of old books. On the terrace you can sit and read a book next to a small canal with the best view. Small ships pass only a few centimetres behind. The very funny owner of the bookshop Acqua Alta speaks many languages, also English.
Better buy tickets for Venice online

In Venice, the queues are often long, some sellers do not speak English. Ticket machines are difficult to use for foreigners. Therefore, we recommend to buy some tickets in advance on the Internet e.g. on the well-known website Getyourguide:
1. Tickets for the local ferries (water buses, vaporetto): daily tickets, weekly tickets, etc.: Click here
2. Tickets for the airport bus: Venice Marco Polo Airport: Click here
3. Doge's Palace and St. Mark's church (the main sights): Click here
4. Great und cheap trip to 3 islands around Venice: Click here

The great shop is not called High Water, because there are a lot of books about high water in Venice. Rather, the bookstore is often hit by the famous flood in Venice. This is probably why many books are in such unusual containers as gondolas, small ships, bathtubs and barrels. They should not get wet during frequent floods (Acqua Alta).
---->>>>>>>>>> More about floods in Venice
The Libreria Acqua Alta is very popular, there is always a dense crowd in the shop. One can simply look through parts of the many thousands of books, one finds one or the other interesting book sometime. There are not only books in Italian, but also in other languages like English.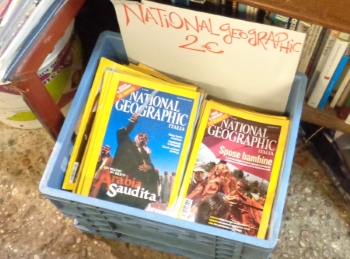 There is hardly anyone who is not enthusiastic about the business. Whether it really is "the most beautiful bookstore in the world", as the owner says on the entrance sign, is up to each individual to decide. But it could definitely be one of the funniest and most unusual shops on earth. It is a real attraction. Just drop by when they're around!
Opening hours Libreria Acqua Alta: Every day, also on Sundays. 9 am to 8 pm.
On foot to the bookstore Libreria Acqua Alta Venice: The shop is not easy to find, it is in the middle of Venice in a small cul-de-sac about 500 meters north-east of St. Mark's Square. If you have a smart mobile phone, you can simply enter "Libreria Acqua Alta" in Google Maps. The next bigger street is called "Calle Lunga Santa Maria Formosa". It ends at a canal at a bridge. Go back from the bridge and after 10 to 20 meters the next street on the right. This cul-de-sac ends after a few meters directly at the bookshop. One can also ask in the area for the way, the "Libreria Acqua Alta" or the "Bookshop Acqua Alta" knows almost everyone here.
The Bookshop on the Map
Hard to find, but no problem with an electronic card these days.
By vaporetto (water bus): The Liberia Acqua Alta bookshop is in the middle of Venice, there is no water bus station nearby. From the south you walk about 500 meters from the pier San Marco S. Zaccaria. It is only a little shorter from the north coast of the island Venice. Here, the ferry station Ospedale (hospital) offers itself.
Nearby
There are few important sights close to the unusual Second-Hand bookstore. However, the tourist centre of Venice is only about 400 metres away. St Mark's Basilica Venice and the famous Doge's Palace can be found 10 minutes walk south of the book shop Acqua Alta on the central St Mark's Square Venice.
Important: This article was translated by a non-native English speaking person. We apologize for mistakes.