This article is mainly aimed at people who visit Venice for the first time. It is a short introduction for visitors to Venice.
We are often asked by tourists: What sights in Venice should we see? Where should we stay overnight? Where are good beaches nearby? We want to answer all these basic questions in this article.
Where and what are the most important sights?
The real Venice is a large island, which is also called Centro Storico, Old Town. Old Town Island or Main Island. Often this island is even colloquially simply called "Venice", although the present city of Venice consists of many islands and districts on the mainland. On this old town island are almost all sights.
Actually, the main island of Venice consists of many small islands, separated by channels and connected by bridges. But often the old town is also simply called an island.
Better buy tickets for Venice online

In Venice, the queues are often long, some sellers do not speak English. Ticket machines are difficult to use for foreigners. Therefore, we recommend to buy some tickets in advance on the Internet e.g. on the well-known website Getyourguide:
1. Tickets for the local ferries (water buses, vaporetto): daily tickets, weekly tickets, etc.: Click here
2. Tickets for the airport bus: Venice Marco Polo Airport: Click here
3. Doge's Palace and St. Mark's church (the main sights): Click here
4. Great und cheap trip to 3 islands around Venice: Click here

Many of the really big sights are located around or on St. Marks Square, about 45 minutes on foot from the "entrance to Venice", at the train and bus station. St. Mark's Square area includes St. Mark's Church, the Doges Palace and the Bridge of Sighs, all major sights in Venice. Whoever has not been to St. Marks Square has actually not been to Venice.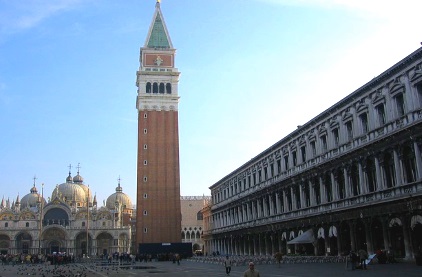 The second very important area is around the Rialto Bridge. Especially the bridge itself and the waterway Canal Grande, which crosses it, are world-famous. The good news is that the Rialto Bridge is on the way from the train station to St. Mark's Square, mentioned above. Roughly speaking, it is a 30-minute walk from the train station to the Rialto Bridge, and after another 15 minutes you will reach St. Mark's Square.
If you don't have too much time or would like to get an overview of Venice first, you can book a city tour on the Internet. 10 suggestions on our page about guided tours of Venice.
Some other top Venice sights are scattered around the Centro Storico (i.e. on the big old town island) or on other islands. More than half of the really big attractions of Venice you have actually seen when you have been to St. Mark's Square and Rialto.
The top 10 sights of Venice on a city map
Where to stay in Venice?
It is the dream of almost all tourists to rent a hotel room directly in the old town. There is only one catch: it is extremely expensive! 200 Euro per night in the season might just be enough for a simple room. During Corona times it is of course much cheaper. Currently (Beginning 2022) rooms cost about half the price.
There is also another expensive problem. You can only get around the old town on foot or by boat. If you can't carry your suitcase far, you usually need a taxi boat (water cab), also expensive: More about water busus on this page
In our opinion, the second best solution is the island of Lido. The advantage is that from Lido it takes 15 minutes by water bus (ferry) to reach the center of the old town (departures are very frequent and direct to St. Mark's Square). You should consider the following things: Also the overnight stay on the island Lido di Venezia is very expensive. Furthermore the island is big. If you choose accommodation on Lido a few kilometers from the ferry port, there is a long transfer time by bus and ferry to Venice. Also the journey from the airport to Lido is rather far, difficult and expensive.
The majority of the millions of tourists cannot afford to spend the night in the Old Town or on Lido and therefore stay overnight outside and commute to the Old Town. Very fast you can get to Venice from Mestre or Marghera (both districts of Venice) on the mainland. Also you reach Mestre and Marghera without problems from the airport of Venice, for example with the frequent airport buses.
Where to go in Venice: beach vacations
Who would like to connect a beach vacation in Venice and a city journey to Venice, could select for example the large tourist place Jesolo as vacation quarter. Almost even more famous is the beach of Cavallino. There are also good beaches on the islands Lido and Pellestrina. More: More about beaches in Venice.
Where to go in Venice: Camping
For a camping vacation around Venice, for example, the area around the town Cavallino (on a peninsula on the mainland towards Jesolo) is ideal. Some of the largest campsites in Europe are here!
There are other camping sites in Lido di Jesolo and on the Island Lido, which has been mentioned several times above. A little further to Venice is from Sottomarina (more info). In Venice (old town) there are no campsites.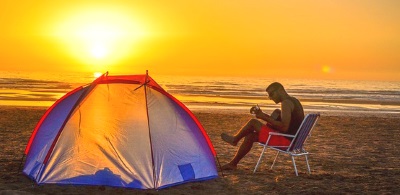 The cheapest alternative wild camping is unfortunately largely prohibited in and around Venice
Where to go in Venice: Party vacations
In Venice itself there is hardly any nightlife. Those who want to see Venice during the day, but do not want to do without clubs, discos and bars at night, should, in our opinion, choose Lido di Jesolo as their vacation location.
Where to go in Venice: Peace and relaxation
Venice is a city with very few parks and green spaces. Nevertheless, the districts of the old town less visited by tourists are rather relaxing because there are no cars. If you are looking for nature and rather quiet islands: a day trip to the islands Sant Erasmo or Mazzorbo is a good idea.
Where to go in Venice: Cycling
Bicycles, like cars and all other vehicles including inline skates and the like, are prohibited in the Old Town. Great islands for cycling are Sant Erasmo (the famous vegetable island of Venice) and the island of Pellestrina (our recommendation).
Where to shop in Venice
There are many stores in the old town. Those who want to buy clothes or jewelry can visit some of the many stores around the Rialto Bridge. There are many luxury stores with expensive goods and a department store.
Inexpensive shopping with a huge selection can be found in the two large shopping centers on the mainland. The shopping center Nave di Vero in Marghera is relatively new (our recommendation), the other shopping center Porte di Mestre Venice has been around for a while. Both can be reached by public bus, but without changing from the bus station in the old town only the shopping center Porte di Mestre can be reached.
Where to go in Venice Markets (food)
The only large market in the old town is the Rialto market about 5 minutes walk from the Rialto bridge mentioned above. Absolutely recommendable! You can find our article about the Rialto market on this link.
Where to go in Venice: Churches
Venice is world-famous for its churches, especially the St. Mark's Basilica in St. Mark's Square.
But there are a large number of other great churches. The oldest Christian church in Venice is the church of Torcello on the remote island of Torcello. The Frari Church in the old town is also very famous.
>>> Our overview of important churches in Venice can be found on this page.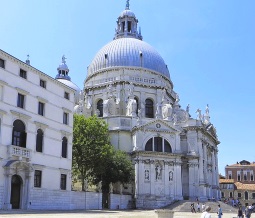 Where to go in Venice: Museums
Some of Venice's museums are among the best in Europe. This is true for historical museums, but especially for art museums. Also some of the churches are full of works of art. Also palaces and the so-called schools (like the Scuola Grande di San Rocco) See: List Museums Venice.
Where to go in Venice: Opera
The great and world-famous opera of Venice is the Teatro La Fenice in the center of the old town island in San Marco. The opera house is an absolute tourist attraction and is visited daily by many people during the day without a performance. See our article: Teatro La Fenice
Our tip: Buy tickets for waterbuses beforehand
It is not always easy to buy tickets abroad. You don't know where to buy tickets, foreign ticket machines are difficult to use, there are language problems, queues, etc.
The 1, 2 or 3 day valid tickets for the waterbuses (ferries) in Venice are needed by almost every tourist. These tickets can now be bought on this english website.
The tickets for the bus from Venice airport to the city are available on this page in English language.