What are water taxis?
Water taxis are an important mean of transport in Venice. These are smaller ships you can rent like a normal taxi with a driver. You could also call taxi boats. Many tourists mix up water taxis with the water buses. Both are ships, but with a significant difference. Water taxis, like taxis in other cities, can be rented individual and you can go where you want. Water buses have like public buses in other cities a timetable and a fixed route. This article is about the water taxis in and around Venice.
---
>>> On this link you can book water taxis (cheap version, taxi boats share with other people)
>>> On this link you can pre-order your own water taxi (from airport to hotel)
>>> On this link you can buy tickets for the water buses (vaporetto)
---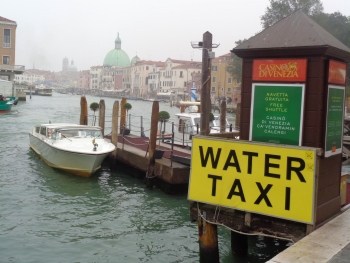 A water taxi in Italian is "Motoscafi", but the English word water taxi is also understood almost everywhere in Italy.
Our recommendation to and from Venice airport:
Sharing a water taxi with other people
Water buses are much cheaper in Venice than water taxis. But they have disadvantages. They only go to certain piers in Venice. Your hotel can be very far from there. Above all, they are often very crowded. A narrow standing space (travel time often over 1 hour) on a ship after a long time in the queue at the port of the airport is not a great holiday start. On the other hand, a private water taxi with much more comfort can cost 100 euros or more.
There is a great alternative. You can only book seats in a water taxi, so you share the comfortable water taxi with other passengers. This service you can book between the airport and Venice. You buy the ticket in advance on the Internet. You walk 800 meters from the airport to the port. You get more information on the following English-language website. You can book the service on this webpage.
General information: water taxis Venice
You can order the taxis or look for a taxi ship yourself. Like taxis on land in large cities, the water taxis of Venice operate 24 hours a day, every day of the year.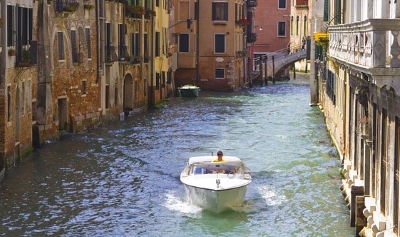 Size and number of persons on water taxis: The taxi boats are slightly larger than the normal car taxis in other cities. Water Taxis in Venice can take up to 10 people (passengers).
Routes: Most passengers want to go from Venice airport Marco Polo to their hotel or vice versa. You can also use a boat taxi within Venice or between the islands of the lagoon. A ride from the airport to the hotel in Venice can take up to an hour, even by water taxi.
Luggage: As a rule, you can take a large piece of luggage per person in the water taxi, as in the water bus. This is especially true if the ship is filled with 10 people. If there are only two or three persons in a water taxis in Venice, a little more luggage is rearly a problem.
Safety: All public water taxis in Venice are licensed and regularly audited. As far as we know, there are fire extinguishers, life jackets etc. on board.
Do water taxis in Venice go to your hotel?
Water taxi can drive many smaller channels in Venice, but not the very small waterways. You can not reach every hotel. But almost always the knowledgeable drivers find a dock that is at most 2 to 5 minutes walk from the destination. Some hotels even have their own dock for water taxis right in front of the entrance. This is especially true for larger luxury hotels.
Fares Water Taxi Venice
The high fares are unfortunately the main problem. The fares from the airport to the city of Venice are generally well over 100 euros, even for short distances within Venice you have to pay at least 50 to 70 euros. Prices have increased significantly in recent years. There is also a night supplement, typically about 20 euros. Bear in mind that the boats carry up to 10 passengers. For a group of 8 or 10 people the fare per passenger is not too high. However, many water taxi companies charge surcharges of 10 euros per person from the fifth or sixth passenger. Even with a total of more than 4 suitcases, a surcharge of 5 euros per piece of luggage can be charged. The prices and surcharges vary slightly depending on the water taxi company.
Pre-order of water taxis (Airport to Venice)
Venice is totally overcrowded. Even a water taxi is often hard to find. Often there are long waiting times at the airport. In addition, there are often language problems. Therefore, we recommend to book the water taxi online, especially from Venice airport to the hotel. Many tourists have had good experiences with the reservation of water taxis on this English-language website. You will be picked up directly at the airport. Also the porter from the airport to the port of the water taxis (a 10 minutes walk) is included. After booking you simply send the data (flight and hotel) by email to the company.
Advantages and disadvantages Water taxis / water buses
There are many advantages over the public waterbus (vaporetto):
- you can pre-order the ships and are not aware of any timetable
- Water taxi are not crowded like water buses.
- theft is a problem on the public, overfilled water buses
- a taxi boat takes the passengers much closer to the desired destination (hotel) than the public water buses. The captain will explain the way to the hotel in Venice.
- The driver is a good source of information for many questions about Venice, just like a normal taxi driver in another city.
- The water taxis operate every day and night, 365 days a year.
Disadvantages of water taxis over water buses in Venice:
There is only one big probelm: From the airport Marco Polo into the city you pay well over 100 euro. Many holiday makers paid more for the trip by water taxi than for the flight from Briatin or Ireland to Venice. There are also normal buses from the airport to the old town (see: Airport Shuttle Bus Venice).
The water level in Venice is determined by the ebb and flow. Sometimes, especially in autumn and winter, there is also a flood. It is not always easy to get in and out of a water taxi, especially people with walking difficulties or elderly persons can have a problem. When the water level is low, you have to take a big step up - at high tide you have to go down.
Better buy tickets for Venice online

In Venice, the queues are often long, some sellers do not speak English. Ticket machines are difficult to use for foreigners. Therefore, we recommend to buy some tickets in advance on the Internet e.g. on the well-known website Getyourguide:
1. Tickets for the local ferries (water buses, vaporetto): daily tickets, weekly tickets, etc.: Click here
2. Tickets for the airport bus: Venice Marco Polo Airport: Click here
3. Doge's Palace and St. Mark's church (the main sights): Click here
4. Great und cheap trip to 3 islands around Venice: Click here

---
>>> On this link you can book water taxis (cheap version, taxi boats share with other people)
>>> On this link you can pre-order your own water taxi (from airport to hotel)
>>> On this link you can buy tickets for the water buses (vaporetto)
---
Important: This article was translated by a non-native English speaking person. We apologize for mistakes.