The Porte di Mestre is a huge shopping center in the north of Mestre. There are more than 100 shops and restaurants in this shopping centre.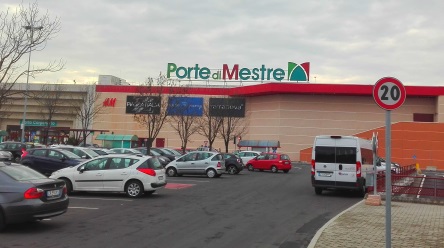 The shopping center in the district of Venice is a long building, the shops are on the ground floor and on the 1st floor. The toilets are free of charge.
Better buy tickets for Venice online

In Venice, the queues are often long, some sellers do not speak English. Ticket machines are difficult to use for foreigners. Therefore, we recommend to buy some tickets in advance on the Internet e.g. on the well-known website Getyourguide:
1. Tickets for the local ferries (water buses, vaporetto): daily tickets, weekly tickets, etc.: Click here
2. Tickets for the airport bus: Venice Marco Polo Airport: Click here
3. Doge's Palace and St. Mark's church (the main sights): Click here
4. Great und cheap trip to 3 islands around Venice: Click here

Shops and gastronomy
Probably the biggest shop in the Centro Commerciale (Italian for shopping centre) is a huge supermarket Auchan.
As in all shopping centers of this kind in Europe, a large part of the stores sells clothes and shoes in different price ranges. In our opinion, the prices are partly lower than in most other countries in Europe. My female companion was enthusiastic about some ladies fashion shops. Some chains are known all over Europe. These include Desigual, Deichmann, Douglas, Foot Locker, H&M, OVS and Swarovski.
For example, you can eat at Mc Donald's, a good Asia restaurant with all you can eat for 9.90 during the week. There are many other restaurants, snack bars and especially cafes. Great ice cream you get from only 1.20 in the ice cream parlour on the ground floor (real Italian ice cream).
In the surrounding area there are other large shops such as a huge OBI hardware store and garden center, a large branch of Decathlon (sports shop) and, about 1 km away, a Media World (Media Markt). But also in the Porte di Mestre there is a big electronics market called unieuro. We think that the prices for tablets and laptops are slightly lower than in Germany.
The Porte di Mestre shopping centre on the map of Venice
The shopping paradise is on the mainland in the district Mestre
Buses to the Porte di Mestre Shopping Centre Venice
During the day, bus number 24 H runs directly from the Piazzale Roma bus station in Venice to the shopping centre during the week. A single trip costs 1.50 euros. A ticket with line 3 from the centre of Mestre to the shopping centre Porte di Mestre also costs 1,50 Euro. For example, you can get on in Capuchino Street in the centre of Mestre.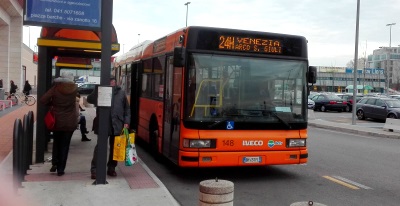 For both lines (3 and 24H) the shopping centre is the terminus. During the week, line 24H from Mestre runs about every 20 minutes, line 3 every 30 minutes. The lottery shop and tobacco shop on the ground floor of the shopping centre sell tickets for the buses.
More information about buses in Venice
Arrival by train
There is also an Italian railway station very close to the Porte-di-Mestre shopping centre. The station is called "Venezia Mestre Ospedale". There are trains every half hour from Venezia Santa Lucia (Venice Central Station) and Mestre station to Venice Mestre Ospedale at the shopping centre. Most of them are local trains to Udine or Treviso. The journey time to the main train station in Mestre is about 5 minutes, to the island of Venice less than 20 minutes. "Ospedale" means hospital.
Opening hours Porte di Mestre Shopping-Center Venice
As is more and more common in Italy, shopping centres are also open on Sundays. The opening hours are daily 9 to 21 o'clock (Sunday 10 to 21 o'clock).
Only a few holidays are closed. As with us, the shopping center closes a little earlier on Christmas Eve and New Year's Eve.
London Eye Prices: The big ferris wheel in central London
There's another big and new mall in Venice calles Nave de Vero: More information
Important: This article was translated by a non-native English speaking person. We apologize for mistakes.