The Wheel of Venice is a large Ferris wheel in the middle of the large resort of Lido di Jesolo, about 30 km north of Venice. It is one of many attractions in the immediate vicinity. The Tropicarium Park Zoo and the Sea Life Aquarium are only a few hundred meters away.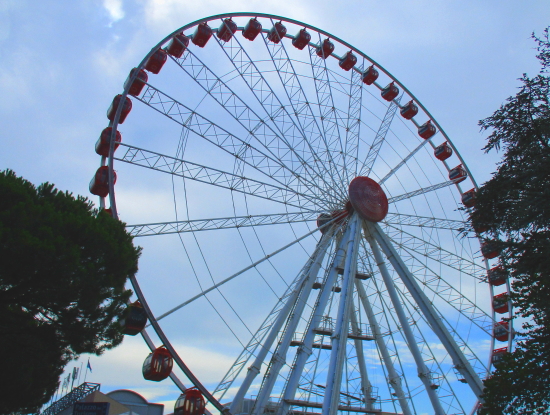 When you take a ride on the Ferris wheel "Wheel of Venice", you can see a lot of things in the surroundings. The Ferris wheel of Jesolo is about 60 meters high. The area and the whole lagoon of Venice are very flat, there are no mountains in the surroundings. Thus, from the Wheel of Venice you can see many kilometers.
You can find the wheel in the middle of Lido di Jesolo at Piazza Brescia. You can hardly miss it because of its enormous size. The Ferris wheel has become the landmark of Jesolo.
Opening hours Wheel of Venice 2022
The Ferris wheel at Venice rotates daily from 5 pm until late in the evening, around midnight. So you can ride before and after dark. Many users report that they especially liked the ride on the Wheel of Venice at night.
According to some sources on the Internet, the Wheel of Venice is sometimes open during the day in bad weather. However, like many rides and popular festivals in Italy, the big Ferris wheel of Lido Jesolo usually rotates only in the evening.
Prices Wheel of Venice Jesolo 2022
You pay 10 euros for a ride on the Ferris wheel near Venice. Children up to 12 euros get 2 euros discount (fare 8 euros). Children under 2 euros are free.
To our knowledge, there are no other discounts such as for pensioners, students, etc., Status of prices: July 2022
The staff of the Ferris wheel in Jesolo is extremely nice and polite. According to our observation, the Wheel of Venice turns relatively fast for a Ferris wheel. As far as we know, one rides three laps.
The fare is unfortunately not exactly a bargain, especially for families. But we think it's worth it, especially for the view. Also, the Ferris wheel at Venice is relatively large, with 60 meters comparable to the world famous Ferris wheel Vienna.
There is a large, paid parking lot nearby. However, you may also find a free parking space at the nearby shopping centers, for example.
Some foreign words
"Wheel of Venice" is the name of the Ferris wheel in Jesolo.
Ferris wheel is called in Italian: ruota panoramica
Important: Long queues and fast admission to the Doge's Palace
Venice is attracting every year more and more tourists. The majority of the millions of visitors of Venice want to see the important sights, one of them is the Doge's Palace.
Very long lines are often formed at the entrance, causing long waiting times.
We know only one way not to wait: You buy a ticket online in advance