Sottomarina is a larger seaside resort on the southern lagoon of Venice. The town looks like a city of its own, but it is actually a part of the nearby town of Chioggia. The beautiful beach of Sottomarina is more than 5 km long. More than one million tourists come to the holiday resort in the north of Italy every year. Excursions to Venice by bus and to the island Pellestrina are possible from Sottomarina without any problems.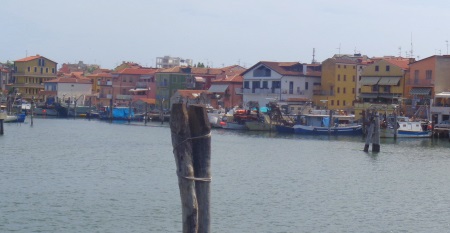 Many holidaymakers are Italians, especially young people from the surrounding area like to come to Sottomarina on weekends. Party and nightlife are the order of the day. Sottomarina is also a popular beach resort among German and other tourists.
Between Sottomarina and Chioggia, just one kilometre away, there is a sea inlet. The two cities are connected by a long bridge. Chioggia has a beautiful old town, Sottomarina is the modern part of the double city. One walks from centre to centre for a maximum of half an hour over the long bridge.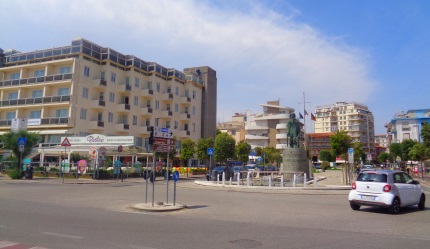 Behind the beach of Sottomarinas runs a modern 4-lane road. Behind it you will find many of the hotels, restaurants and shops for the many holidaymakers. It is a modern city with many new large buildings and wide streets. The contrast between the old town of Chioggia and the new Sottomarina is great.
Beaches Sottomarina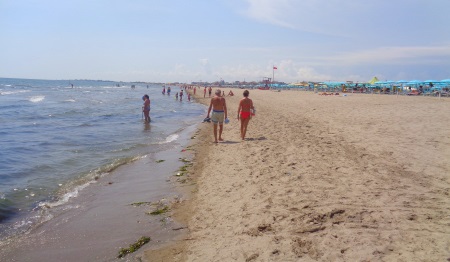 The sandy beach of Sottomarina has a length of about 6 kilometers and is several hundred meters wide in many places. It is a high-quality beach with fine sand and few stones.
Sottomarina's beach offers a lot of entertainment such as mini golf, bigger rides like at a folk festival, clubs with music, bingo, beach volleyball and much more.
Also great playgrounds for the kids can be found at the beach of Sottomarina (see picture)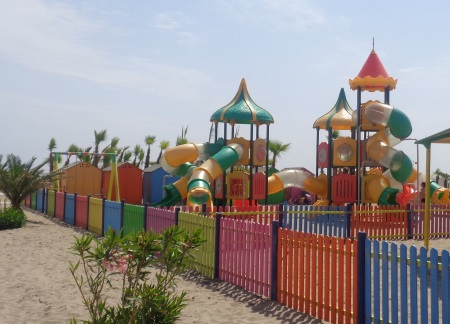 In Sottomarina there is a very good tourist information on the wide road behind the beach. We got a good city map for free. The staff of the Tourist-Info are very helpful and speak excellent English.
All about prices Tower London: Tickets online etc.
Buses between Sottomarina and Venice
By bus line 80E (journey time about one hour) from Sottomarina you arrive directly in the old town at Piazzalo Roma Venice. A single ticket costs 6,40 Euro (summer 2018). Tickets are not available in the bus, but in the tobacco shops of Sottomarina. In Venice you can buy the tickets directly at the bus station. The buses run in both directions every 30 minutes during the day. They stop several times on the way in Chioggia and Marghera (a suburb of Venice on the mainland). There is no railway or station in Sottomarina and Chioggia.
Does a holiday in Sottomarina make sense if you want to see Venice?
Restricted yes. However, it is relatively far to Venice, estimated 40 km. In our opinion a beach holiday in Sottomarina with 1 to 2 day trips to Venice is a great thing. But those who want to look at Venice as the main holiday destination should look for a place closer to Venice. One can also drive by car, but parking in Venice is very expensive.
A big advantage of a holiday in Sottomarina: the place is of course much cheaper than Venice. This is especially true for the hotels. There are also some great campsites along the long beach. It is one of the best beach resorts around Venice
Does a trip from Venice to Sottomarina make sense?
More no. Sottomarina is far away and has few sights to offer. There are good beaches closer to Venice, for example on the island Lido.
However, we recommend a nice day tour with public transport: From Venice by water bus to the island of Lido, then by boat to the island of Pellestrina and then by ferry to Chioggia. From Chioggia you can walk through the old town to Sottomarina and at the end take the bus back to Venice (see above). More information on this can be found on our page about Pellenstrina.
Map of Sottomarina and Chioggia
Important: This article was translated by a non-native English speaking person. We apologize for mistakes.