The area of the city of Venice today consists of the main island, some areas on the mainland and many small islands. This article gives an overview of the islands of Venice. In lists the islands are sorted by size (km²) and number of inhabitants. Then you find short description of the islands and, if available, a link to the article about the respective island in this Venice travel guide.
Tip: 3 Island Tour for only 20 Euro
This guided boat trip to the three islands Murano, Torcello and Burano is almost unbelievably inexpensive for Venice. The guided trip is especially suitable for tourists who have little time and still want to see several islands. On the way in the boat you are informed over loudspeakers in several languages (also English) about the islands and the lagoon. The islands you visit alone without a guide. The boat ticket is already included in the price of 20 Euro. For this price, the trip is a real bargain for the expensive city of Venice. The tour starts near St. Mark's Square.
------->>>>>> More information and booking
How many islands there are in Venice ?
This question is not easy to answer. Many literature sources speak of about 120 islands in the lagoon of Venice. It depends on what is called an island. Some are only single rocks. Others are only at low tide over the sea and at high tide under water.
In addition, we have combined islands on this page, which are only separated by small canals and connected by bridges, into one island. Actually, even the main island of Venice, which is often perceived as the actual Venice, consists of many small islands. This is for example also true for Murano and Burano.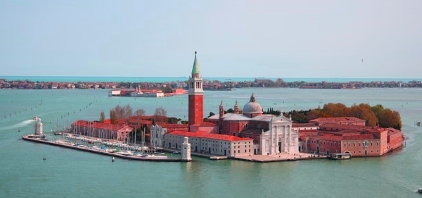 How many islands of Venice are inhabited ?
This question is easier to answer. About 11 islands in the lagoon of Venice have permanent inhabitants. The number of inhabitants is very different:
Map city Venice and islands
In the lagoon most of the known islands are north of the main island. The elongated islands Lido and Pellestrina (a little south of the map) form the outer boundary of the lagoon with parts of the mainland and protect the old town from the open sea.
List of Venice Islands by Inhabitants
| | |
| --- | --- |
| Name of the island | Inhabitants |
| | |
| Main Island (town center, Centro Storico) | 63.000 |
| Lido di Venezia | 18.000 |
| Murano | 6.200 |
| Giudecca (with Sacca Fisola) | 6.100 |
| Burano | 4,800 |
| Pellestrina | 4.150 |
| Sant Erasmo | 700 |
| Mazzorbo | 350 |
| Vignole | 60 |
| Torcello | 20 |
| Mazzorbetto | 5 |
Some other islands like the cemetery island San Michele are visited by many tourists. But they have no permanent inhabitants (anymore). In former times, some other islands of Venice were inhabited. All the islands in the list above except Mazzarbetto can be reached by public transport Vaporetto (see Ferries Venice). You can find an overview of all important ferry lines in this internet travel guide on this page.
Thus, all the islands of Venice with the old city have about 103.000 inhabitants according to the statistics above. The majority of the approximately 265,000 inhabitants of the city of Venice now live on the mainland in districts such as Mestre and Marghera.
Only the main island Centro Storico is connected with the mainland by a bridge. All other islands in the list above can only be reached by boat.
List of Venice Islands by area
| | |
| --- | --- |
| Name der Insel | Größe in km² |
| | |
| Main Island (town center, Centro Storico) | 5,2 |
| Lido di Venezia | 4 |
| Sant Erasmo | 3,3 |
| Pellestrina | 2 |
| Murano | 1,2 |
| Mazzorbetto | 0,8 ? |
| Giudecca (mit Sacca Fisola) | 0,8 |
| Vignole | 0,7 |
| Mazzorbo | 0,5 |
| Torcello | 0,44 |
| Burano | 0,2 |
| San Michele | 0,16 |
Only inhabited islands and the famous island San Michele are in the list. There are many more islands in the lagoon, some of which are larger than those in the list. There are also some smaller islands with only churches, luxury hotels and so on. Some smaller islands used to be banishment islands for the sick (plague), prisons or quarantine islands.
Although the main island has the largest area of all the islands in Venice, the distances on Lido and Pellestrina are much bigger as the islands have an elongated shape. The longest island of Venice, Lido di Venezia, has a length of more than 12 kilometres in north-south direction. The southern neighbouring island Pellestrina is not much shorter with 11 km.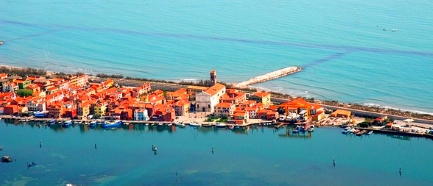 The following islands are described in detail in this travel guide
Lido (di Venezia): Very frequently visited and very many hotels and campsites. Lido separates the lagoon from the open Mediterranean (Adriatic Sea). It is an island with modern houses, cars, buses, etc. Strong contrast to the main island. Very good ferry connections to the main island. One is in few minutes at the Markusplatz. St. Mark's Cathedral with its Campanile tower is well visible from Lido di Venezia. More info
Murano: famous for glass making and glassblowing. Very often visited by tourists. Very popular among others the glass museum. Densely populated island. More info
Burano: Also many houses in a small area. Burano is known for its colorful houses and lace. The island is often visited, there are some places of interest. More info
Torcello: Made for a trip for a few hours. Oldest building (church) in Venice. A trip with the public water bus to Torcello can be combined with Burano and Murano. Island hopping in Venice as a day trip. More info
Mazzorbo: Larger island dominated by meadows, fields and agriculture. Many tourists come over the footbridge (bridge for pedestrians, wooden bridge called Ponte Longo) from Burano. Among other things, the inhabitants live from the cultivation of fruit, artichokes and wine. But many also work in tourism, also on the sister island Burano. Mazzorbo is ideal for a walk, for hiking or cycling the island is a little too small. More info
Giudecca: Directly opposite the Piazza San Marco. Densely inhabited. Many tourists, but also a lot of normal Italy. Giudecca is much less crowded than the old town. A well-known church is on Giudecca. More info
San Erasmo: The "vegetable island" of Venice like asparagus and artichokes. It is a large island with few inhabitants and rural character. Ideal for hiking and cycling. Great variety, because the densely built Venice (Centro Storico, old town) has few parks and green areas. More info
Pellestrina: Rather sparsely populated island in the southern lagoon with a side to the open sea. Many vacationers and excursionists on Pellestria are cyclists. Bicycles can also be rented. In Venice itself (main island) cycling is forbidden. Pellestria and its neighbour Lido are the only islands with road traffic (cars, buses, etc.). A bus (line 11) crosses the island. In the south there are ferries to the mainland in the city of Chioggia, in the north to Lido. Both ferry connections take only a few minutes. The main town is also called Pellestrina. More info
Centro Storico: The main island of Venice and the actual main theme of this website. One of the most visited islands in the world by tourists.
Other islands of Venice short description
Mazzorbetto: This island is difficult to reach and is hardly visited by tourists. Large island with very few inhabitants, it may soon be uninhabited. The Mazzorbo Canal separates Mazzorbetto and Mazzorba. The distance between the two islands of Venice is at the narrowest point about 60 meters. Mazzorbetto has a larger area than Mazzorbo, but it is much less known in Italy.
Vignole: Island visited by few tourists with agriculture (vegetables) and some businesses. Vinole is like the main island Centro Storico and Murano divided by a channel. A bridge connects the two parts of the island. Vignole can be reached with the vaporetti (water buses) line 13. A small sight is the church Sant Erosia. A part of Vignole is military territory.
San Michele: Since Venice is built on tree trunks, the dead cannot simply be buried. The cemetery is on the island of San Michele and is a sight to behold. Some graves of celebrities.
Santa Cristina: One of the islands that used to be inhabited, but are no longer so, is Santa Cristina to the north of the lagoon. In the Middle Ages there was a monastery (nuns), not so long ago some farmers lived on Santa Cristina (area about 20 hectares, length about 900 meters). Unfortunately, the island of Santa Cristina cannot be reached by public transport.
By ferry to the islands and between the islands
There is in Venice a extremely well developed system of ferries as public transport. These ships are usually called water buses in English, Vaporetti (singular: Vaportetto) in Italian. Such public ferries leave every few minutes to different islands.
Tickets for the ferries in Venice cost 7,50 Euro (single ticket in late 2017). At this price, it is better to buy a day ticket or a ticket for several days. >>>>> More about day tickets for ferris in Venice
If you want to find your way quickly, it is best to read something about the ferries and their lines before the trip to Venice. We have published important information about the waterbuses in an article.
Our tip: Buy tickets for waterbuses beforehand
It is not always easy to buy tickets abroad. You don't know where to buy tickets, foreign ticket machines are difficult to use, there are language problems, queues, etc.
1. The 1, 2 or 3 day valid tickets for the waterbuses (ferries) in Venice are needed by almost every tourist. These tickets can now be bought on this english website.
2. The tickets for the bus from Venice airport to the city (8 Euro single or 15 Euro round trip in the year 2019) are available on this page in English language..

Our city map (sights and much more)
Important: This article was translated by a non-native English speaking person. We apologize for mistakes.