---
Our favorite parking garage in Venice is the Autorimessa Comunale. Mainly because of its location and relatively low prices. We have summarized more information about this parking garage in this article. >>> On this website you can book parking spaces in Venice
---
Restaurants and Cafes
In many restaurants and cafes you can sit outside on Campo Santa Margherita. The ice cream parlor Gelateria il Doge in the south of the large square is one of our favorites among the ice cream parlors of Venice. A scoop costs only about 1,50 Euro, for Venice cheap. You can also sit down and enjoy the hustle and bustle on the Campo with a good sundae.
There are also several cafes. The small Cafe Rossa has everything a great cafe needs: Low prices for Venice, a friendly atmosphere and good coffee.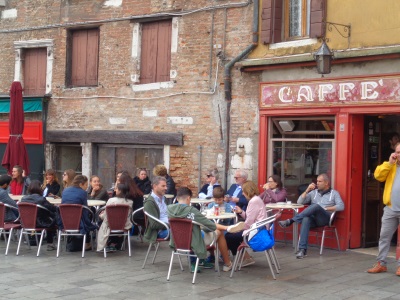 Our savings tip in the Campo Santa Margherita square is Pizza Volo. It is one of the few classic take-away stores for pizza still existing in Venice. You can buy large pieces of pizza for only 2 Euro in about five different varieties (as of the beginning of 2018). You can choose between ham, mushrooms or vegetable pizza. After two slices of pizza from Pizzeria Volo you will definitely not be hungry anymore. A very cheap lunch in Venice for 4 Euro. You can comfortably eat the delicious pizza on a bench on the square.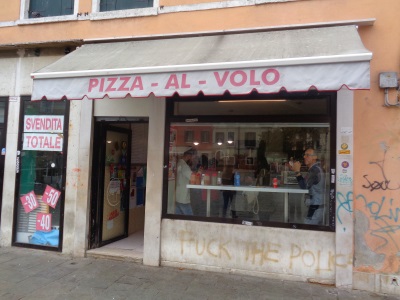 Of course there are also some restaurants on Campo Santa Margherita. Some are called Osteria. These are wine restaurants in Italy where also small dishes are offered. Today many Osterias in Italy offer a complete menu with fresh food. An Osteria is usually a little cheaper than a restaurant. The Osteria Do Torri on Campo Santa Margherita is one of the good restaurants in Venice and is our recommendation (opening hours daily 11 to 15 and from 18 o'clock). Among the visitors of the Do Torri, locals and tourists are roughly equal.
Worth mentioning is also the restaurant Bone Robe on the southern Margarethen Square. Here you can get Italian food as well as good hamburgers, for example.
How do I get to Campo Santa Margherita? What is nearby?
You can only get there on foot. Sights nearby are the Scuola Grande di San Rocco and the Basilica dei Frari (both about 200 meters north). The main train station Santa Lucia and the famous Rialto Bridge are each 20 to 30 minutes walking distance away. In the other direction (south) you can walk in about 20 minutes to the famous Accademia art museum. Also worth a visit in the area is the Venice Music Museum (distance about 10 minutes, free admission).