Parking in Venice: You should reserve a parking space in the parking garage online in advance. Especially now at Corona time many people come to Venice by car. There is a great website for reserving parking spaces: Click Here



Insider tip:
Travel comfortably without queues, buy tickets online beforehand:



---

Welcome to our internet guide about the city of Venice. The goal of this website is to help people planning a trip to Venice. You will find an overview of the most important sights, information on how to get to Venice, public transport, cheap hotels and much more.
Venice has been one of the most popular destinations for a city break worldwide for many decades. In hardly any other city in Europe there are more sights. Venice is unique. A big city without cars and roads, but boats and canals. In addition you will find world famous top buildings such as the famous Doge's Palace at Piazza San Marco (St. Mark's Square). Tourists love the many bridges, especially the Rialto Bridge over the Canal Grande in the heart of the city.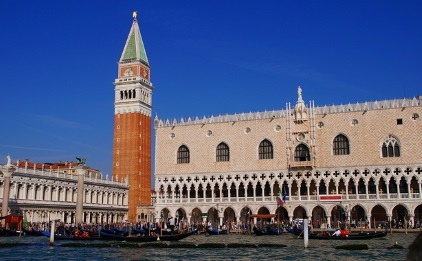 Do not forget the other islands around Venice. The island of Murano is visited by millions of tourists every year. Also beach lovers come in the summer in the region. Lido di Venezia is an island with a beautiful 10 kilometers long beach, only 15 minutes by ferry from central Venice. Lido di Jesolo, just over 20 kilometers north of Venice, is one of the major tourist destinations in Italy.
Venice has the reputation of being a very expensive city. That is certainly not wrong. But you can also travel to Venice cheaper than you think. Especially the hotels in the old town are expensive. Many regular travelers spend the night in Mestre, the big city on the mainland opposite Venice. Here you can find cheaper accommodation and you can go over a bridge to Venice with a train or tram for about 1.50 euros in a few minutes. If you want to visit other islands around the lagoon city, public transport is a bit more expensive. But there are also affordable options. For example, you can buy a weekly ticket for almost all water buses (ferries), buses and trams for just 60 euros.
If you go to Venice, you should plan your trip well. There are many great sights. Everybody is interested in different things. This applies, for example, to the more than 50 museums and galleries in Venice or cultural events such as theatres, concerts and operas. One of the most important opera house in the world is in the middle of the old city of Venice, it is the grandiose Teatro la Fenice.
The most important art museums in Venice are the world-famous Museum Accademia Venice, the Peggy Guggenheim Collection and the Museo Correr, which is also a historical museum. Some of the top sights of Venice include some churches, the most famous is St. Mark's Basilica. It makes sense to familiarize yourself a bit with the history of the city before the holiday.
In the Venice area there are some destinations that are ideal for a day trip. These include cities such as Padua, the old town of Chioggia and the city of opera Verona.
Top 10 sights on a city map
Most of the information is from 2017 and 2018, some texts and pictures are a bit older.
Important: This article was translated by a non-native English speaking person. We apologize for mistakes.
Deutsche Version
---