Venice is a city of superlatives, for example in terms of the number of tourists or the number of top sights. But there are also many normal facts and figures about Venice:
Population of Venice: The entire city with the districts of Venice on the mainland has about 260,000 inhabitants. On the famous island of the old town (Centro Storico), for many people the real Venice, only about 60,000 people live. More and more houses are converted into hotels and other facilities for tourists. Thus the number of inhabitants of the old town is decreasing more and more, but the suburbs on the mainland like Mestre and Marghera have an ever increasing population. Meanwhile Mestre has significantly more inhabitants than Venice itself.

Highest Population of Venice (Historical): At the great time, between the 13th and 17th centuries, Venice almost always had more than 100,000 inhabitants, but probably never more than 200,000 inhabitants. The highest population in the current urban area (including the suburbs on the mainland) was reached around 1969. At that time, 365,000 people lived in the lagoon city. Since then, the population has decreased significantly, by about 100,000 to about 260,000 inhabitants.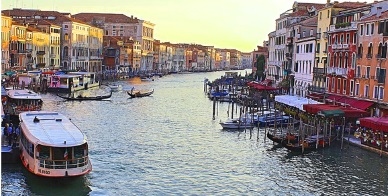 Area of Venice: The city, including all suburbs, has an area of about 157 square kilometers. This figure does not include water areas, but only land areas. The old town island is just 5.2 kmē in size.
Population density Venice: The entire city has a population density of about 1,650 people per square kilometer. It is much narrower in the Old Town with a population density of 11,500 people per kmē.
Bridges Venice: There are about 440 bridges in the Old Town, almost all of them for pedestrians only. Even bicycles are forbidden in most parts of the Old Town island.


Channels Venice: A total of 175 channels are said to exist on the island of Venice. The waterways are to be almost 40 kilometers long in total. The world-famous Canal Grande is the widest and longest canal in Venice. On other islands of Venice, such as Murano or Burano, there are other canals.
Churches Venice: There is not only the St Marks Basilika, but in the old town alone there are about 100 other churches. Many of them are very famous and house magnificent art treasures. On islands that belong to the city and on the mainland there are about 50 more churches. So there are about 150 church buildings in the lagoon city.
Quarters Old Town Venice: The Centro Storico is politically divided into six parts (6 so-called Sestieri). These are San Marco, Cannaregio, Dorsoduro, Castello, San Polo, Santa Croce.
Map of Venice with mainland and islands
Districts entire city of Venice: The entire city of Venice today is also divided into six districts. The Old Town Island is one of these districts. The others are: Mestre, Marghera, Chirignago-Zelarino and Favaro Veneto (all mainland) and Venezia Litorale (islands in the east).
Number of streets Venice: There are said to be about 3,000 alleys and streets in the old town. Probably no tourist has ever got lost. Even with a cell phone as navigation system, orientation is very difficult. More about Venice on foot
Number of tourists visiting Venice per year: According to statistics, currently (2018) about 10 million people come to Venice each year to stay overnight. Furthermore, about 18 million additional people (mostly Italians) make a day trip to Venice. The number of tourists in Venice continues to increase. There is an increasing rush to the sights and the train stations. The number of visitors has increased by about 2-3% per year in the last few years. For example, the number of tourists from Asia and cruise ships is increasing rapidly.
Our city map (sights and much more)
Highest buildings of Venice: This is, not surprisingly, the St. Mark's Tower, the freestanding bell tower of St. Mark's Cathedral. The height of the highest tower of Venice is almost 99 meters. From the top you have probably the best view over the city (there is an elevator).
Number of foreigners Venice: According to official figures, almost exactly 30,000 people (as of 2023) live in Venice with a citizenship that is not Italian. Slightly more than half of the foreigners in Venice come from Europe, about 2,000 from Africa. With a population of 260,000 people (see above), Venice has a foreigner quota of about 11.5 percent. Of course, many more foreigners are constantly in the lagoon city than tourists.
Number of gondolas in Venice: Today, there are said to be about 3,000 gondolas in Venice; once upon a time, there were said to be more than 10,000. A gondola ride is still a romantic and very popular attraction, even if it is not exactly cheap.
Largest stadium Venice: To our knowledge there is only one stadium in Venice. It is the Pierluigi Penzo stadium in the east of the old town island. Only about 8,000 people can fit into the arena. No other city with over 200,000 inhabitants in Italy probably has only such a small stadium. The club FC Venice also plays only in the 3rd league (league C, also called Lega Pro until 2017). The stadium is in the municipality of Sant Elena.
Our tip: Reserve a parking space
Parking is very difficult on the island of Venice. There are only the 4 parking garages at the entrance to the old town. These are often full. If you come by car, you should reserve in one of the parking garages in advance.
>>> On this website you can reserve parking spaces. (Old town island, Mestre on the mainland and airport)


---
Corona Update Parking Venice
Currently all 4 parking garages in Venice are not very full and have similar prices. We therefore recommend two parking garages right next to the Old Town at Piazalle Roma. These are Autorimessa Comunale AVM (often good offers) and Garage San Marco. Be sure to book online in advance!
Number of islands Venice: Venice consists of about 120 islands. This number is somewhat controversial. It depends on how you define an island and whether you count every rock in the sea as an island. On 11 islands there are always people living, see list inhabited islands Venice
Number of parking garages Venice: All 4 parking garages are near the big bridge from the mainland. There is nowhere else to park on the island. The parking fees are among the highest in Europe. More about parking, parking garages and parking fees in the old town
Our tip: Buy tickets for waterbuses beforehand
It is not always easy to buy tickets abroad. You don't know where to buy tickets, foreign ticket machines are difficult to use, there are language problems, queues, etc.
The 1, 2 or 3 day valid tickets for the waterbuses (ferries) in Venice are needed by almost every tourist. These tickets can now be bought on this english website.
The tickets for the bus from Venice airport to the city are available on this page in English language.

---
Reserve a parking space: Parking spaces are rare in Venice, multi-storey car parks are often full. It is therefore advisable to reserve your parking space. On this website you can book parking spaces in Venice (including the big car parks in the Old Town of Venice, in Meste and at the airport).
---